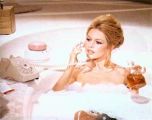 A tribute to 60's cult femme: B.B.
These are the pictures of the fabulous sex kitten, click on each image to enlarge. Please wait for the thumbnails to load so you con have a quick view of each picture. These images are for your pleasure so feel free to download them! To come back to this page click the "Back" button of your browser.
Un piccolo tributo al mito femminile degli anni '60: B.B.
Queste sono alcune immagini della favolosa "sex kitten", fate click su ciascuna immmagine per ingrandirla. Per poter avere una visione rapida di tutte le thumbnails attendete che si carichi l'intera pagina. Le foto sono gratis, scaricatevele liberamente! Per tornare a questa pagina fate click sul bottone "Back" del vostro browser.